The advancements in vision care have shown themselves in many ways, from specialty lenses for your glasses to specialized contact lenses for your unique visual needs. Laser eye surgery is another option that can help clear up your vision and addresses refractive errors.
Laser eye surgery can serve several functions, including correcting refractive errors.
Let's explore laser eye surgery, including what to expect, the different types, and if surgery can correct the need for reading glasses.
What Is Laser Eye Surgery?
Laser eye surgery is a procedure that reshapes your cornea to correct refractive errors such as:
Annual eye exams can help your optometrist stay up-to-date with your vision and check for these various refractive errors.
Laser eye surgery can reduce your need to wear glasses or contact lenses and, for that reason, has become a more common procedure.
If you're currently sporting glasses or contacts and want to switch it up, the next step is booking a consultation with your optometrist to see if you're a good fit for the procedure.
The Consultation Process
During the pre-surgery appointment, your optometrist will explore if you're a good candidate for laser vision correction through comprehensive eye testing that may include:
Discussing your refractive surgery options
Reviewing your eye history and refractive stability
Eye dominance testing
A complete medical evaluation of your cornea and eye
Your optometrist will also discuss the procedure in detail, including the benefits and risks, to ensure you fully understand the process.
After confirming your candidacy, you will be recommended to a surgeon to have your surgery scheduled.
LASIK eye surgery is the most well-known and commonly performed laser refractive surgery to correct vision. LASIK vision correction is a quick procedure that can usually be completed in 30 minutes or less.
Following your surgery, you'll be able to schedule follow-up appointments with your optometrist's office to ensure the healing process is progressing smoothly.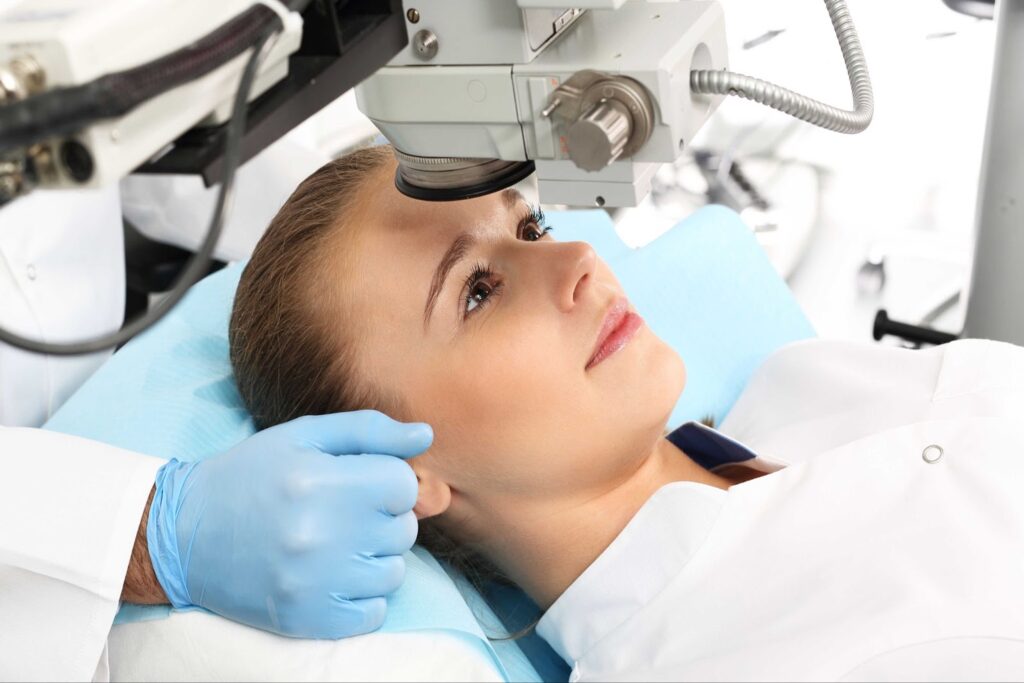 Laser Eye Surgery & Reading Glasses
While laser eye surgery is commonly used to correct refractive errors such as nearsightedness and farsightedness, you may be wondering if the procedure can alleviate the need for reading glasses.
The answer is that it depends on procedures such as monovision and multifocal LASIK.
As you age, the lens inside your eye becomes less flexible and weakens your eyes' ability to accommodate near vision. This condition is referred to as presbyopia. Traditionally, presbyopia has not been able to be corrected through laser eye surgery.
Presbyopia cannot be corrected by traditional LASIK eye surgery so let's explore your options.
Reading Vision Correction
Evolutions in laser vision correction have brought about various laser eye surgery options.
Monovision is a technique where the surgeon fully corrects refractive errors in one eye and intentionally leaves the other eye with mild nearsightedness. This process results in the fully corrected eye seeing distant objects clearly and the nearsighted eye providing sharper near vision.
Monovision contact lenses are also an option that performs a similar function without the surgical process.
Multifocal LASIK reshapes the eye's surface to mimic bifocal or multifocal contact lenses, reducing the need for reading glasses. However, this procedure increases the risk of glare and halos.
Reading vision is complex, and these are just some of your options. Your optometrist can help advise you on your options. It's crucial to consider all of your options and how the process works for any type of vision correction.
Managing Your Visual Needs
Your vision is complex and ever-changing, so understanding the various procedures and vision conditions can be helpful. Laser eye surgery is an excellent option to correct multiple vision issues, including the need for reading glasses.
Book an appointment with your optometrist to learn more about the laser vision correction process and see if it's right for you.