Your comprehensive eye exam is often the first touchpoint we have to gain insights into your eye health and make recommendations to ensure you have clear and comfortable vision. During your exam, we can make recommendations based on your unique personalized eye care needs.
An eye exam is crucial to evaluating your fit for contact lenses. During an eye exam, we assess whether contact lenses are right for you and take the time to determine which lenses will fit your specific needs.
Why Are Contact Lenses Helpful?
A contact lens is a thin, curved plastic disk worn on your eye surface to improve your vision. Contact lenses work similarly to eyeglasses to correct refractive errors like:
Typically, light enters the eye through the cornea and passes through the lens, eventually reaching the retina. The retina is the light-sensitive tissue at the back of the eye that transmits information through the optic nerve to your brain.
Refractive errors occur when light doesn't bend through the eye correctly. Light lands in front of the retina with myopia, resulting in blurry vision at far distances. The opposite occurs with hyperopia.
How Do I Get Fitted for Contact Lenses?
Finding the right contact lens fit is crucial to properly correcting refractive errors and providing you with the vision correction you need.
Exam
Your exam is a crucial part of evaluating your suitability for contact lenses. During your exam, we review your medical history, including your past eye health, to determine whether you're a fit for contact lenses comprehensively. Afterward, we move on to a personalized contact lens fitting.
Fitting
During your fitting, we examine your corneas and determine whether they're suitable for regular contact lenses. We also evaluate your tear film healthiness since the lenses will float on top of your tear film to fit comfortably on your eye surface.
After your fitting, we'll recommend specific contact lenses that suit your personal needs. You will also receive assistance with putting your contact lenses in for the first time so you have the confidence to do it at home.
Trial Period
The trial period is critical for finding the right contact lenses for you. After you've had a bit of time to try out your contact lenses, we'll meet with you to discuss how you're feeling and make any necessary adjustments to ensure you're comfortable.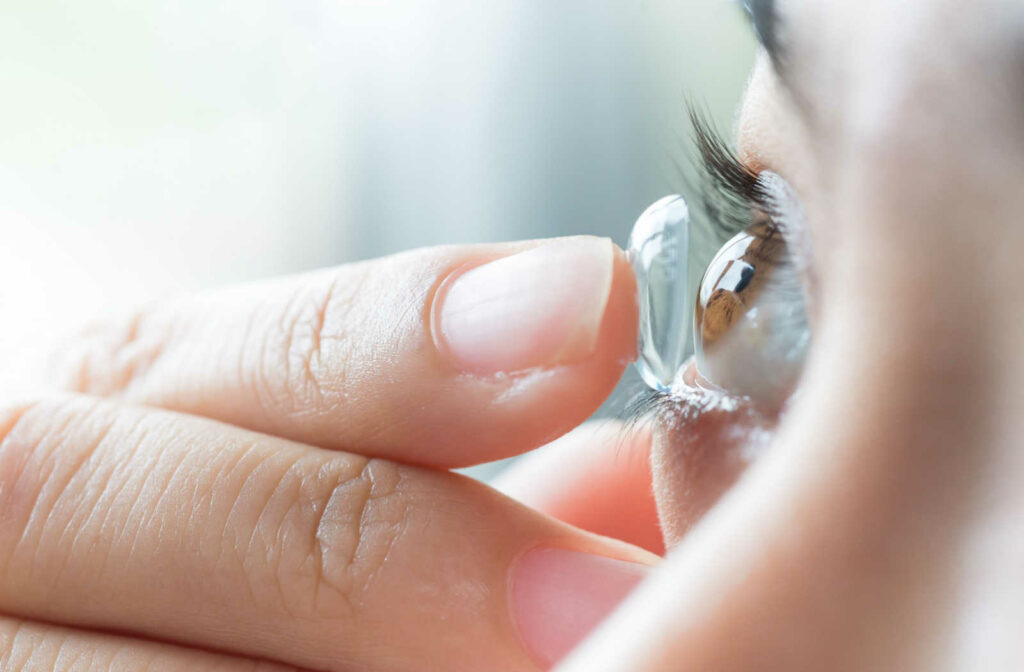 What if Standard Contacts Don't Fit?
Some people may struggle with regular contact lenses. In some cases, regular contact lenses don't fit comfortably on the cornea. In other cases, they may cause dry eye symptoms because they may block tear film from reaching your entire eye surface.
Luckily, specialty contact lenses are available to help all patients get the customized, comfortable, comprehensive vision correction they deserve.
Scleral Lenses
Scleral contact lenses are rigid lenses that sit on the white part of the eye, called the sclera, instead of the cornea. These contact lenses are larger in diameter, meaning they're ideal for people with corneal conditions like keratoconus and astigmatism.
Toric Lenses
Toric lenses are specifically designed for people with astigmatism. These lenses carry different prescriptions along the horizontal and vertical axes of the lens. Their weighted bottom keeps them ideally in place on your eye so they don't move around, providing clear vision throughout the day.
Hybrid Lenses
Hybrid lenses are a mix between soft and rigid gas permeable (RGP) lenses. Some people have trouble with RGP lenses since they can be uncomfortable. Hybrid lenses solve this issue by featuring a RGP center with a soft edge for enhanced comfort. You may be a good candidate for these lenses if you have a high prescription or struggle with contact lens clarity.
Get Your Custom Contact Lens Fitting
You deserve contact lenses that fit comfortably and correct your vision. When contact lenses fit comfortably, they provide you with lasting clear vision throughout the day so you can enjoy all the moments life has to offer.Here at Bettner Vision, our team is committed to providing you with the personalized vision correction you require. Contact lenses, eyewear, eye exams, and more—we're here to help. Get in touch with us to book your custom contact lens fitting today.