Choosing the frame for your glasses is important, but selecting the right lenses is crucial. Eyeglasses have long been a popular choice for vision correction, even with the availability of alternatives such as contact lenses or eye surgery. For many individuals, eyeglasses remain the preferred option due to their ease of use, convenience, and versatility in correcting various visual impairments.
Different glasses lens types include progressive, bifocals, polarized, readers, and blue-blockers. Glasses lenses can provide a multitude of benefits depending on their features, such as protecting your eyes from damage, preventing eye strain while reading or doing close-up work, providing clarity by reducing glare, and correcting vision deficiencies.
Finding the perfect lens from different lens types can be confusing or overwhelming. But it doesn't have to be when you understand their functions and match them to your visual needs.
Types of Lens Materials
In the past, eyeglasses were made of glass. Today, they are mostly made of high-tech plastics. Here are different types of lens materials with added technology for better visual acuity and lens treatments:
Polycarbonate lenses: lightweight, impact-resistant, ideal for sports, kids, and safety eyewear with built-in UV protection.
Trivex: lightweight and thin alternative to polycarbonate with impact resistance and sharper vision.
High-index plastic: lighter and thinner than traditional lenses for higher prescriptions.
Aspheric lenses: thinner and flatter for improved peripheral vision and wider field of view.
Photochromic/Transition lenses: change from clear to tinted with exposure to sunlight.
Blue light blockers: have a coating to filter out blue light.
Polarized sunglasses: reduce glare by blocking horizontal light with a chemical filter.
Different Types of Glasses Lenses
When deciding on eyeglass lenses, you'll want to consider your prescription, the coating, and lifestyle. Here are different glasses lenses to suit almost all your needs:
Reading Glasses
As you age, changes in your vision are common, such as presbyopia which can occur in your 40s. The natural lens in your eye loses flexibility, causing difficulty in quickly focusing on nearby objects.
If your vision is not impaired in any other way, non-prescription reading glasses can help with the correct strength. If you notice the following signs of presbyopia, you may need reading glasses or reading glasses:
Constantly adjusting the distance of reading materials (books, digital devices) due to trouble focusing and blurriness.
Struggling to read small print.
Requiring more or brighter light for close-up tasks such as reading.
Experiencing eyestrain and headaches during close-up work.
Sun Bifocals
Bifocals help with distant and near vision. If your eyes can't focus well due to presbyopia, these lenses help prevent eye strain when switching from far vision to close-up.
Sun bifocals can come in both polarized and non-polarized options.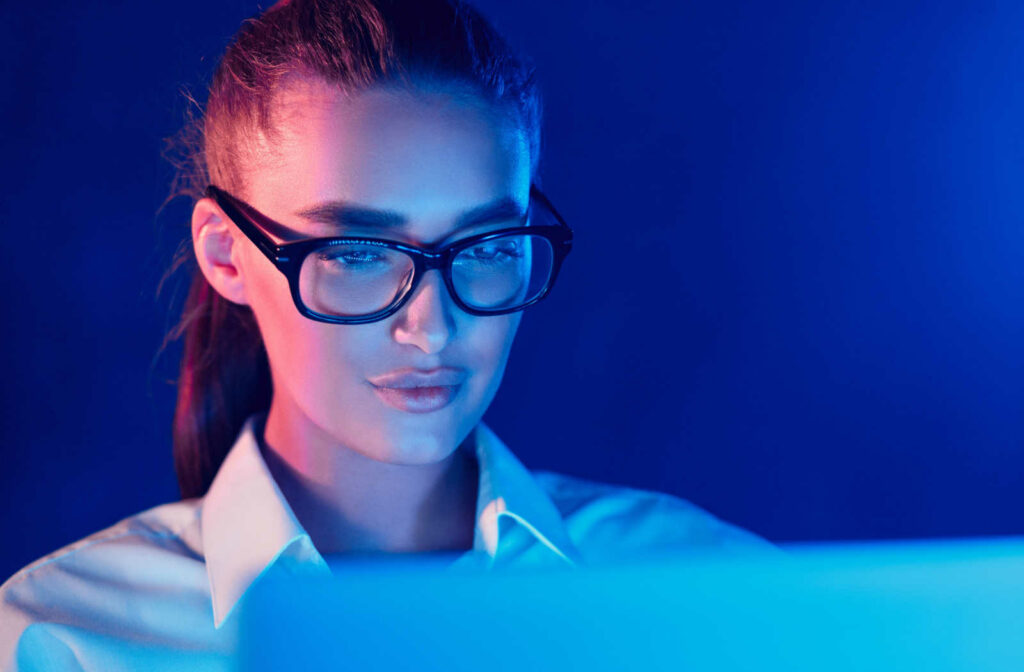 Blue Light Blocking Glasses
If you spend extended periods of time in front of digital devices like a computer, phone, or tablet, you may want to consider wearing blue-light-blocking glasses. Blue light, which is found in sunlight, is also emitted from screens of digital devices and can cause overexposure.
This can lead to issues such as computer vision syndrome, headaches, eyestrain, and visual fatigue. Blue light blocking glasses are designed to reduce these risks with a special coating that reflects or blocks the blue light from reaching your eyes, providing added visual health protection.
Progressives
Progressive lenses are a type of multifocal lens that corrects multiple viewing distances seamlessly, without visible lines. The correction gradually transitions from reading correction at the bottom to computer-distance vision correction in the middle and no correction at the top.
Polarized Sunglasses
Polarized sunglasses provide eye protection against sun damage, regardless of the season, through polarized lenses that block UV rays and decrease glare from reflective surfaces.
In addition to reducing glare and enhancing clarity, sunglasses act as a shield for your eyes, guarding against potential harm from elements such as sand, dust, wind, and debris.
Find the Best Lens Type for Your Needs
It's best to have the right glasses lens for you according to your needs and preferences. Bettner Vision offers a wide range of frames that can provide comfort and functionality with whatever your purpose of glasses is—readers, blue light blockers, sunglasses, or progressives.
If you're ready to order a pair or would like to book in for an eye exam, contact us today.