Children's Eye Exams
A child's first anything can be an exciting event. First tooth, first haircut, first steps—but what about their first eye exam? Many childhood milestones can be achieved at the child's pace—but health checkups usually have recommended timelines to help ensure the child's success.
A child's first comprehensive eye exam is more than a sight test. It's essential to have their eyes assessed early to determine their risk of vision problems, eye conditions, or ocular disease.
A Child's First Eye Exam
A first eye exam is like a first doctor's visit. You may schedule a checkup earlier if you have concerns about your child and their health, or schedule it later because your child seems healthy. Eye health problems in children are uncommon, but a first exam can help parents determine if their child meets developmental milestones.
Between 6–12 months, an infant has begun developing many essential visual skills, including:
Color vision
Depth perception
Eye-body coordination
Eye movement control
The American Optometric Association (AOA) recommends a child's first eye exam should be between 6–12 months of age. However, a child with a higher risk of eye or vision problems should have an exam earlier or more frequently during visual development.
How Often Should Children Have An Eye Exam?
How often a child (or adult) should have an eye exam depends on the health of their eyes and vision. Like seeing your doctor, you might schedule more appointments if you're feeling unwell. However, routine eye exams are crucial in prevention. Your optometrist can make recommendations to support eye health and prescribe treatment for eye problems.
The American Optometric Association's (AOA) general recommendations for eye exam frequency are:
At least once between 3–5 years
At least once before beginning first grade
Annually between 6–17 years
Children with a higher risk of eye problems or vision difficulties should have more frequent eye exams. Your child's optometrist can recommend how often your child has an eye exam based on their unique eye care needs.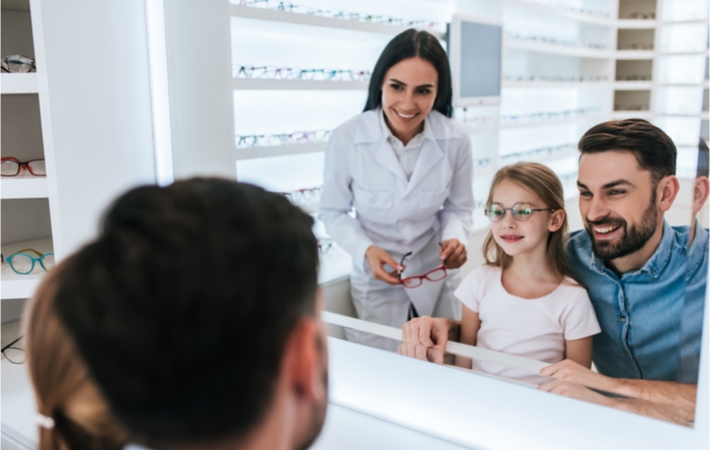 What Is High Risk?
Although eye health problems are low in children, eye exams are crucial in assessing if they are more likely to develop problems. Risk can be affected by multiple factors. Generally, children with no family history of eye problems or personal history of eye trauma are low-risk.
High risk can be a combination of family history, eye trauma, or health conditions. Some high-risk factors for eye problems include:
Amblyopia (lazy eye) or strabismus (crossed eyes)
Anisometropia (eyes have unequal refractive powers)
Fetal distress or inadequate oxygen during birth
Eye injury or eye surgery
Prematurity or low birth weight
Health conditions with potential ocular symptoms
High or progressive refractive error(s)
Infection (infant or mother) during pregnancy
Smoking, alcohol, or other substance use during pregnancy
Children who have a higher risk of developing vision or eye health problems can benefit from more frequent eye exams. Optometrists can detect eye problems (and health problems with eye symptoms) to help protect a child's life-long health and sight.
Signs It's Time for an Eye Exam
Regular children's eye exams help monitor their sight and visual development. Kids may not know if their vision is "normal." Sometimes they don't know how to describe what they're experiencing or if it's different from what everyone else sees.
About 10% of preschool children have vision or eye problems. Yet, fewer than 15% of preschoolers receive a professional eye exam. Untreated vision problems can cause significant difficulties with classroom learning when children lack the visual abilities necessary for academic success.
Children's eye exams are crucial for the early detection of vision problems. Optometrists know what to look for and can help children communicate their symptoms.
Not all signs of vision problems are visual. Some signs parents may spot that indicate vision problems include:
Avoiding close-work activities
Covering one eye
Eye turning in or out
Frequent head tilting
Frequent squinting or eye rubbing
Holding objects too close
Vision-related learning problems can interfere with a child's ability to understand and retain what they're learning. It can also lead to disruptive behaviors in the classroom and at home. Notably, the longer a child's eye problems continue untreated, the more challenging it can be for kids to keep up with their peers.
Missing regular eye exams can also lead to a misdiagnosis. For example, children with convergence insufficiency (CI) are 3 times as likely to be diagnosed with ADHD as they can share similar symptoms. Children are more likely to receive an accurate diagnosis and appropriate treatment by monitoring eye health from infancy.
Visit Us for Children's Eye Exams
Whether it's your child's first eye exam or the first that year, Bettner Vision can support your child's eye health. We take the time to get to know our patients so we can personalize your experience. Our Colorado Springs eye doctors are passionate about providing our patients with exceptional eye care at every age.
Book an appointment today to see how we can help support your unique vision needs.