Dry eye disease can cause a burning or gritty sensation in the eyes, among other symptoms. There are many different causes of dry eye, but fortunately, there are also many options available for dry eye therapy. One of these options is getting prescription glasses with special qualities that can help address the causes of dry eye.
Some types of prescription glasses can help address environmental causes of dry eye, but getting treatment for the underlying causes of dry eye disease is also important for getting lasting relief. If you're suffering from dry eyes, it's important to visit an optometrist to learn about your options for dry eye treatment.
What Is Dry Eye Disease?
Dry eye disease, also known as dry eye or dry eyes, is a condition that causes your eyes to feel sandy, gritty, burning, or dry. It's a common condition that affects millions of Americans every year and can be caused by many different factors.
However, one of the most common causes of dry eye is a problem with your tear production. If your eyes produce tears of poor quality or simply don't produce enough, it can lead to dry eyes.
Your eyes naturally create and spread a film of tears that coat their surface whenever you blink. These tears help lubricate and moisturize your eyes and help keep dust and debris out, and they're made up of 3 layers:
The oil layer, which helps prevent your tears from evaporating too quickly.
The water layer, which helps lubricate and hydrate your eyes.
The mucin layer, which helps ensure your tear film spreads evenly across your eyes and sticks to their surface.
If your eyes have a problem with any of these 3 layers or simply don't produce enough tears, you may develop dry eyes. However, other factors can also cause dry eyes.
Dry eyes can also develop due to environmental factors. Digital eye strain is a common cause, along with a particularly dry, dusty, or humid environment.
It's also important to note certain medical conditions can lead to the development of dry eyes. More than 50% of Americans with diabetes experience dry eye syndrome at some point in their lives.
Glasses that Can Help Dry Eyes
If you suffer from dry eyes, there are many options available for dry eye therapy. One potential choice is the use of special prescription eyeglasses with features that can help protect your eyes against the environmental causes of dry eye, including:
Moisture chamber glasses: These glasses use a silicone shield that wraps around your face and can create a humid environment that can help give your eyes the moisture they need.
Wraparound glasses: These glasses can help provide protection from wind and other environmental factors that can contribute to dry eyes, like debris or dust.
Specially coated glasses: Some glasses come with a special coating designed to help reduce the effects of computer light and time spent staring at screens.
While these glasses are all options for helping with dry eye syndrome, they typically can't resolve the symptoms themselves. Instead, they aim to address some of the causes and protect your eyes. Even with these glasses, it's still important to seek care for other underlying conditions that can cause dry eyes.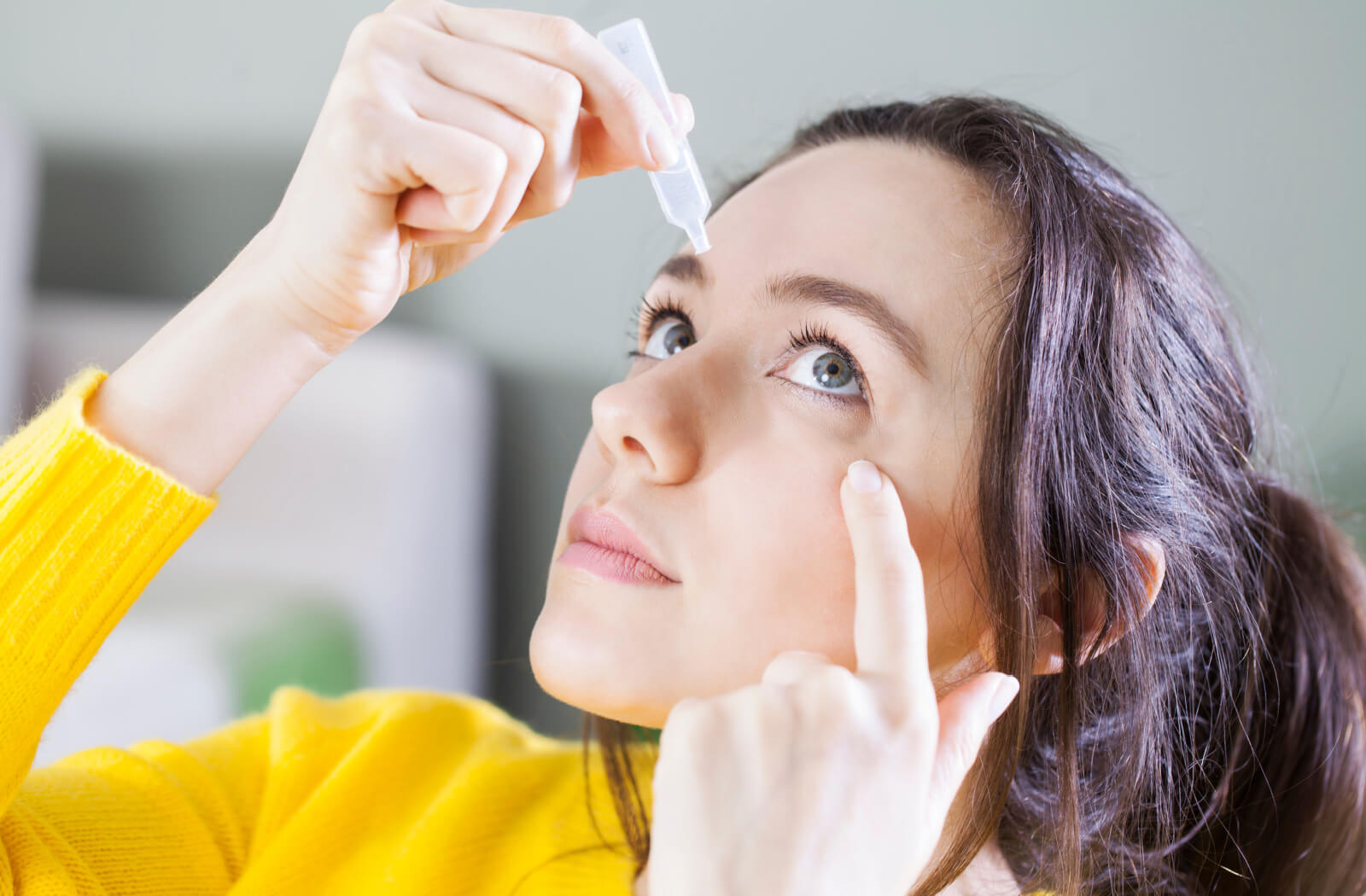 How to Help Dry Eye Syndrome
Depending on your eye health and vision needs, there are many options available for dry eye treatment, both at home and when you visit our office.
Additional ways to help dry eyes include the following:
Artificial tears or eye drops: These come in both over-the-counter and prescription forms. They can help supplement your natural tears and can provide relief from irritation and dryness. It's important to speak with an eye care professional before using eye drops to confirm which type can help your eyes.
Avoid excessive screen usage: Extended screen use and digital eye strain are linked to eye irritation and dry eyes, partly because many people naturally tend to blink less when focusing on a screen, which can lead to dry eyes.
Change your environment: Using a humidifier and cleaning excess dust and debris can help reduce the environmental factors that can lead to dry eyes.
Avoid tobacco use: Tobacco use can cause all kinds of health problems, including dry eye disease.
Of course, one of the best ways to address dry eyes is to visit us for a comprehensive eye exam. We can help you determine what's causing your dry eyes and create a plan to help. When you visit us, we can help find the root of the problem and provide treatments to help you get lasting relief.
Schedule an appointment with us here at Bettner Vision to learn more about your options for dry eye therapy.