Your glasses may be providing you with clear vision right now, but when should you be visiting your optometrist for a new prescription?
Continue reading to learn more about your glasses prescription, including how often you should change it.
Understanding Your Eyeglass Prescription
Approximately 3 out of 4 Americans need corrective lenses, requiring them to have an eyeglass prescription. Your prescription features the information for your glasses to correct your refractive error, but the abbreviations and numbers can be hard to understand.
If you're reading your prescription, the associated numbers and letters indicate the following:
A plus (+) sign: A positive number, such as +2.50, indicates your prescription corrects farsightedness.
A minus (-) sign: A negative number, like -2.00, indicates your prescription helps correct nearsightedness.
A large number: Regardless of whether you have a plus or minus in your prescription, a large number means you have a heavier prescription.
OS & OD: You can see the abbreviations OS & OD on your glasses prescription. OS is oculus sinister, the left eye, & OD is oculus dexter, the right eye.
Eye differences: It's common to have different vision quality in each eye, particularly if you have astigmatism.
Spherical correction (SPH): Spherical correction is the lens strength needed for correcting vision for the entire eye. It's typically the first number listed.
Cylindrical correction (CYL): Cylindrical correction is the second number & is specifically for people with astigmatism.
ADD: You may need a different prescription to help see close-up objects. ADD is the strength required to help magnify images.
AXIS: The axis notation notifies lens makers where to place astigmatism correction in the lens.
PRISM: Your eye doctor may incorporate a prism into a lens to help correct problems with the eyes working together, like an eye tilting inward.
Does Your Prescription Change?
Your prescription changes several times throughout your life, especially during childhood. An eyeglass prescription changes because the eyes themselves change. Because children's eyes grow fast, they need frequent eye exams to ensure their glasses still meet their visual needs.
Adults' eyes change as well, but more slowly. One common age-related change you may experience after 40 is the development of presbyopia.
Presbyopia
Presbyopia is when the eyes gradually lose their ability to focus when looking at close-up objects. Approximately 30% of American adults experience this condition as they age. This condition is a natural part of the aging process.
Presbyopia occurs due to changes in the eye's lens. Your lens is soft and flexible, letting it easily change shape to focus on near and far away objects. This lens becomes more rigid with age, causing it to struggle to change shape.
You may not notice presbyopia right away, but some common symptoms include:
A tendency to hold objects further away to see them clearly
Blurry vision at normal reading distances
Eye strain or headaches after focusing on close-up tasks
There's no way to prevent presbyopia because it's a part of becoming older. However, you can make focusing easier by getting a new prescription that addresses presbyopia.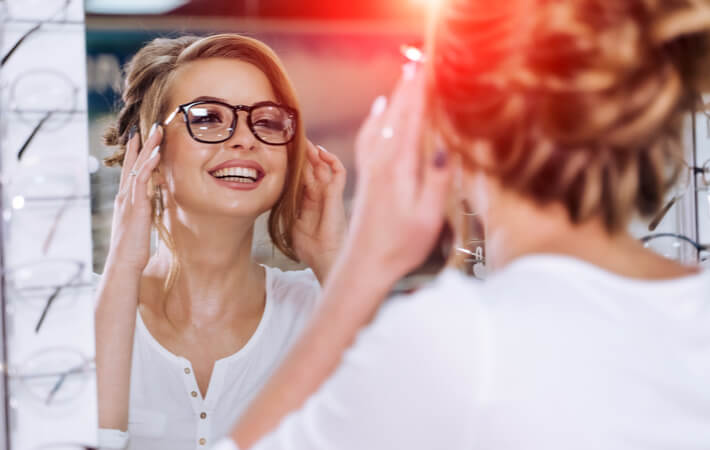 How Often Should You Change Your Prescription Glasses?
There is generally no standard timeline for when you should change your glasses prescription because everyone's eyes are different. However, your prescription will have an expiration date indicating the last time you can get new glasses before needing a new prescription written. The prescriptions that our practice writes are valid for one year.
It's important to schedule regular eye exams because your eyes can change with time. Your optometrist can assess your vision and identify if you need a new prescription or not. According to the American Optometric Association, adults ages 18–64 should have an eye exam at least every 2 years.
At a minimum, you should have your eyes checked every 2 years, but your eye doctor may want to see you more frequently. Listen to their recommendation, and you can ensure your prescription is always up to date.
Signs You May Need a New Glasses Prescription
While your optometrist can determine if you need a new prescription, you may experience some early warning signs. You may need a new glasses prescription due to natural vision changes or an undiagnosed eye condition.
Consider booking an appointment with your optometrist to have your eyes checked if you experience any of the following symptoms:
Blurry vision: Blurred vision can mean your glasses aren't doing their job as they used to.
Headaches: An outdated prescription can lead to headaches because your eyes have to work harder to see clearly.
Double vision: Double vision can be a symptom of a new or undiagnosed eye condition affecting your vision.
There's no definitive answer for how often you should change your glasses prescription, but the best thing you can do for your vision is schedule regular eye exams with a Colorado Springs optometrist at our practice.. Understand when your current prescription ends and book an appointment to renew it. Your eye doctor can assess your vision and identify any changes in your prescription. Contact your optometrist when it's time for an eye exam.